Holiday Village Himmerki is located on the shores of Lake Kitkajärvi in Posio, Finnish Lapland. This lake is famous for its abundant fish and incredibly clear water.
The velvety beaches of Lake Kitkajärvi invite you to spend the day sunbathing, and to take a swim in the refreshing water after the gentle heat of the sauna. This rustic yet modern holiday village is an ideal place for a rest in the midst of the busy urban life. Comfort is guaranteed at Himmerki. There is plenty of choice for accommodation, from beach villas to Lappish hut-shaped cabins. The hotel has altogether 130 beds.
The Himmerki restaurant has 156 seats. In the fully licensed restaurant you can enjoy the taste of local dishes. It is also a pleasant place to arrange meetings or just to sit down and relax with a cup of coffee.
In addition, the resort has lakeside saunas, 28 caravan pitches and equipment rental, such as bikes, boats, snowshoes, ski sets and frisbees.
Green Key -certified businesses
Holiday Village Himmerkiis one of the holders of the Green Key and the Sustainable Travel Finland-label in Posio region, which offers services to international tourism customers.
The values of the Holiday Village Himmerki include recycling of municipal waste, supporting local staff and using local pure ingredients. Read more here.

Prices

Accommodation
1-2 people
3 people or more
5-6 people
Himmerkin suite
135 €/day
898 €/week
180 €/day
1197 €/week
210 €/day
1246 €/week
Lakeshore villas
125 €/day
750 €/week
165 €/day
990 €/week
Sauna lodge
125 €/day
750 €/week
135 €/day
810 €/week
Greylog cottages
85 €/day
510 €/week
Summer cottages
60 €/day
350 €/week
60 €/day
350 €/week
Restaurant

In the fully licenced restaurant you can enjoy delicious dishes made from local ingredients. The restaurant has seats for 156 people. Himmerki serves breakfasts, buffet lunches, 3-course dinners, as well as banquet and conference meals. Please call in advance to make a reservation.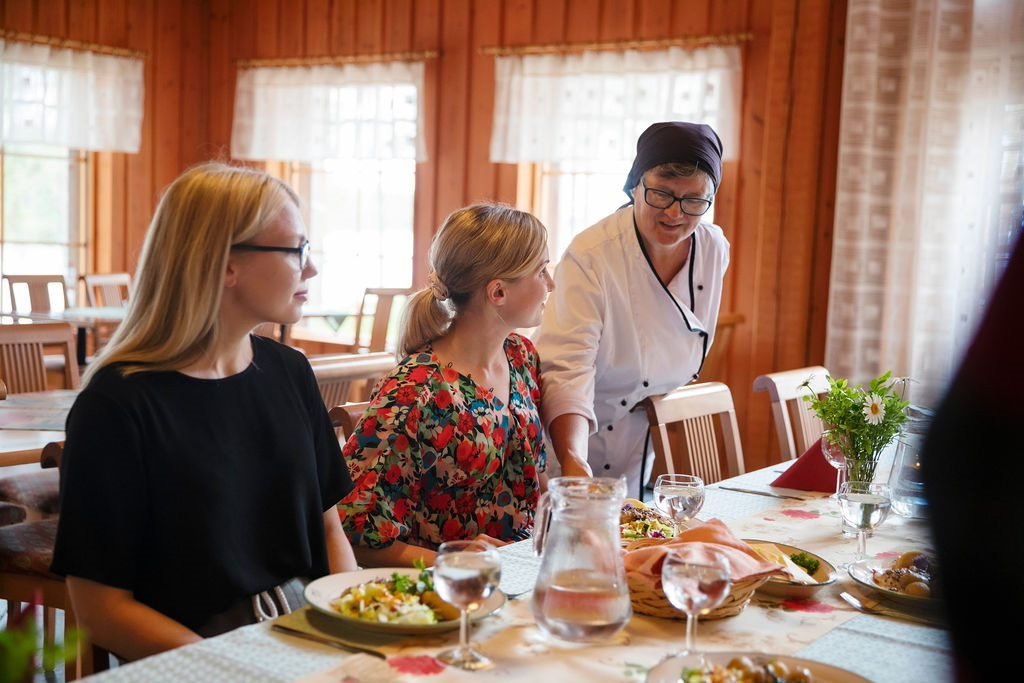 We spent one night in a lakeside villa. The villa was new with all modern conveniences. Beautiful location on the sandy shore of the lake right at the spectacular sunrise. Excellent and friendly service. I would not hesitate to stay here again
We spent 4 days in a lovely chalet overlooking an iced lake: what a view! The location is stunning! Food is great. The atmosphere is very intimate. The owners are very, very nice and make your stay there special. They also organize super cool activities (reindeer, husky, etc.) We strongly recommend this place.
A wonderfull place to be. Fresh air, beautiful surrounding and you feel very welcomed by the owners. Enough to do and the Northern light was stunning. We had a perfect time at Himmerki and would love to see what its like during the summer.
Additional information
Equipment rental
Rowing boat 5 € / h and 10 € / day
Kayak (1-2 persons) 5 €/h and 20 €/day
Ski sets price (including poles, boots and skis) 15 €/day
Frisbee Rental 10 €/day
Snowshoe rental 10 €/day
Bike rentals (2 kpl) 5 €/h ja 20 €/day
Snowmobiles on request in advance
You also might be interested in