PERFECT FOR TRAVELERS SEEKING OFF-THE-BEATEN-TRACKS
Posio is a small nature-loving community with a population of little more than 3,000 inhabitants.  The destination is known especially as the home of Finnish interior design company Pentik and Riisitunturi National Park. 
Posio is also known as the hidden gem of Finnish Lapland. Away from the highways Posio's travel sector has developed to a somewhat different direction than other bigger destinations.
The tourism companies are rather small family businesses operated by locals. Hotels and cabins are situated in their own privacy by lakes, in forests or wooded areas. Hence the sense of space and silence are very much part of the experiences offered to tourists.
Located in Southern Finnish Lapland, Posio has become the first travel destination to receive the Sustainable Travel Finland label from Visit Finland.
ONLY AN HOURS DRIVE FROM THE AIRPORT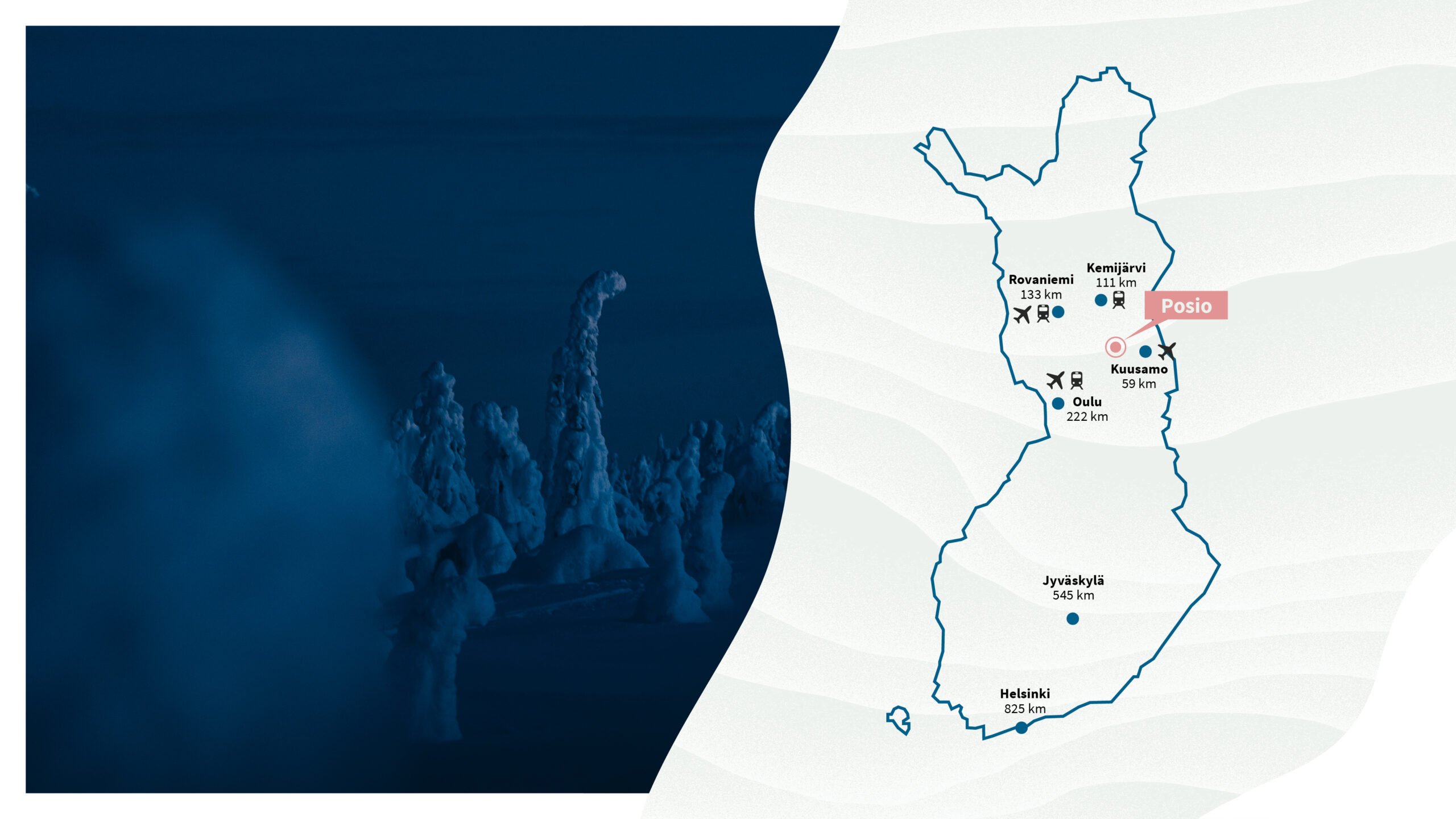 Posio is located in southern Lapland, close to Kuusamo airport. Rovaniemi airport is also relatively close by. One can also travel by train from Oulu, Rovaniemi or Kemijärvi, and taking a bus or a car for the rest of the trip.
Posio's travel packages include transfers from airports or train stations! Currently individual travelers move around the area most conveniently by rental car. Additionally, there are bus connections from Rovaniemi, Oulu and Kuusamo, but no public transportation between the nature destinations so far. However, some of the accommodation offer transportation at an additional cost.
experience the narnia of finland
It could be said that Posio is like miniature Lapland: Fells, multitude of waters, vast marshlands and evergreen forests all together form an exceptionally diverse range to choose from – there is enough to enjoy even during a longer visit and around the year!
Riisitunturi National Park is a breathtaking hiking destination all year round by foot and also by mountain bike during winter. The hillsides of the park are decorated by rare slope mires and the bare fell tops offer breathtaking views over Lake Kitkajärvi and the forests beyond. During a  wintery night, one may be able to catch both the famous snow clad candle-like spruces and the northern lights. The trees are like towering statues or fantastical creatures, each seamingly with its own persona. Riisitunturi National Park is definitely one of the hightlights in our travel vacation packages. Please see below information about these packages and how to book them.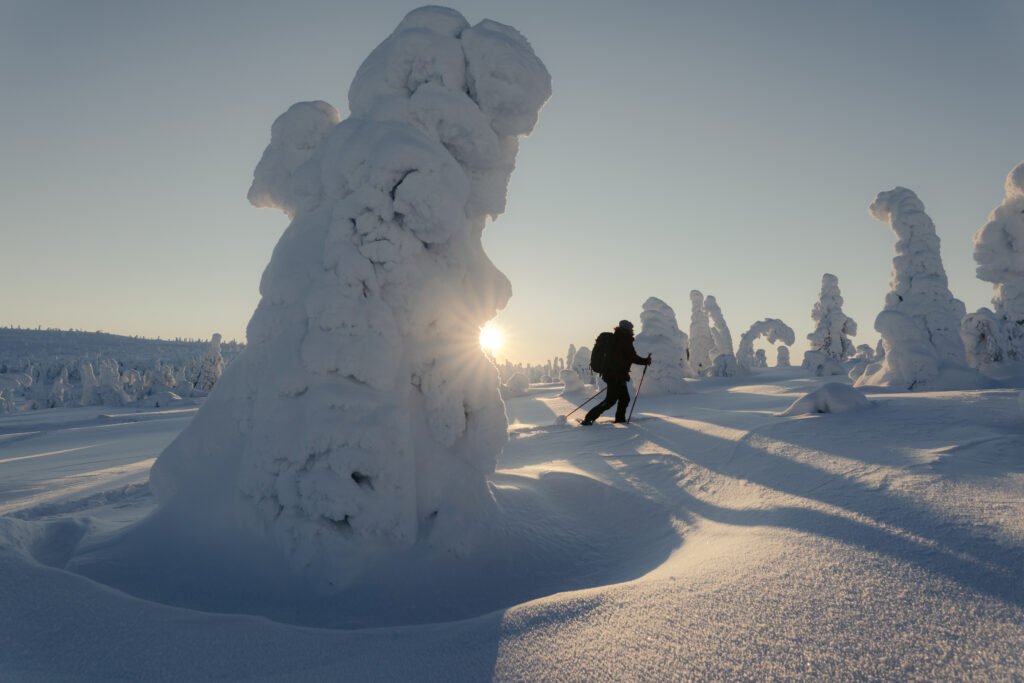 KOROUOMA'S CLIFFS TOWER HIGH IN THE SKY
The hiking trails of Korouoma offer monthly changing views all year round! In the winter, a 5-km scenic route passes by three impressive frozen waterfalls. In the summer, unique flora and fauna, impressive boulder soils and the serpentine River Korojoki amaze hikers and create great opportunities for bird watching, nature photography and recreational fishing. You can also hike, ski or showshoe through the whole fracture valley following a 20-km out-and-back trail. In autumn, the canyon is clad in rich earthly colors that showcase the bounty of nature.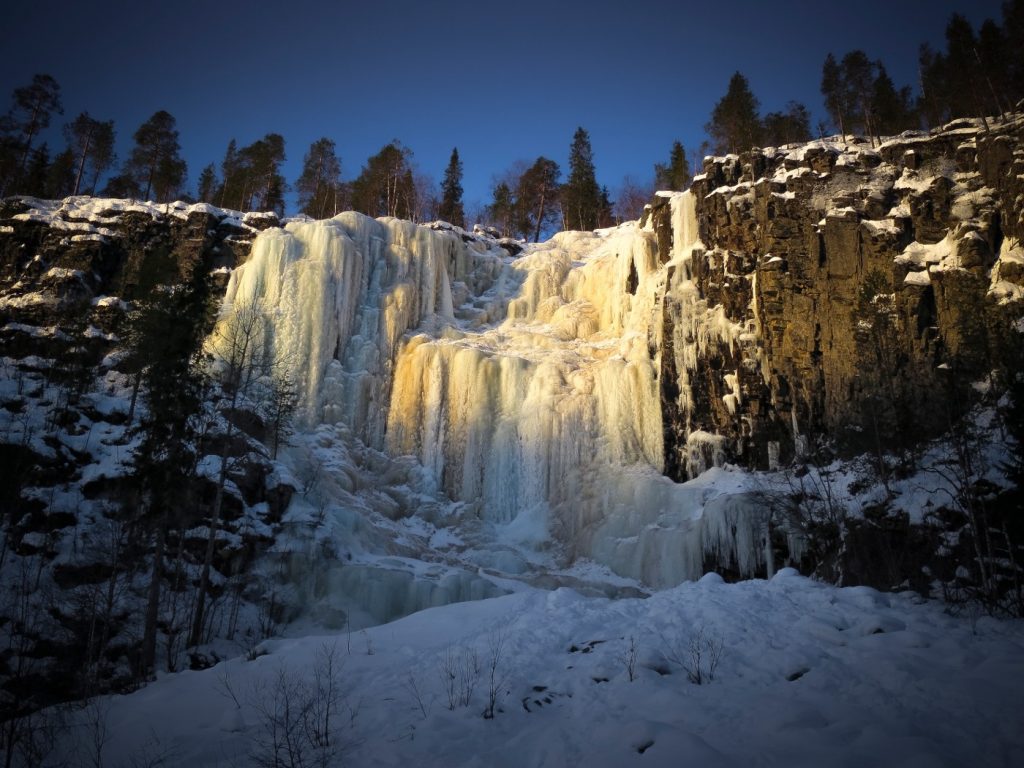 Mountain biking in beautiful hirsiniemi
Hirsiniemi circle trail offers soothing landscapes into the clean waters of Lake Livojärvi coast protection area. Specialty of the route is a boat crossing over a narrow strait to the peninsula of Hirsiniemi. In Hirsiniemi, the trail continues in easy terrain running on a high sandy ridge with stunning lake views. Along the route there are many deserted sandy beaches as well as altogether five campfire sites, which you can reach by foot, by bicycle or boat/canoe. In the winter, you can also ski over the frozen lake.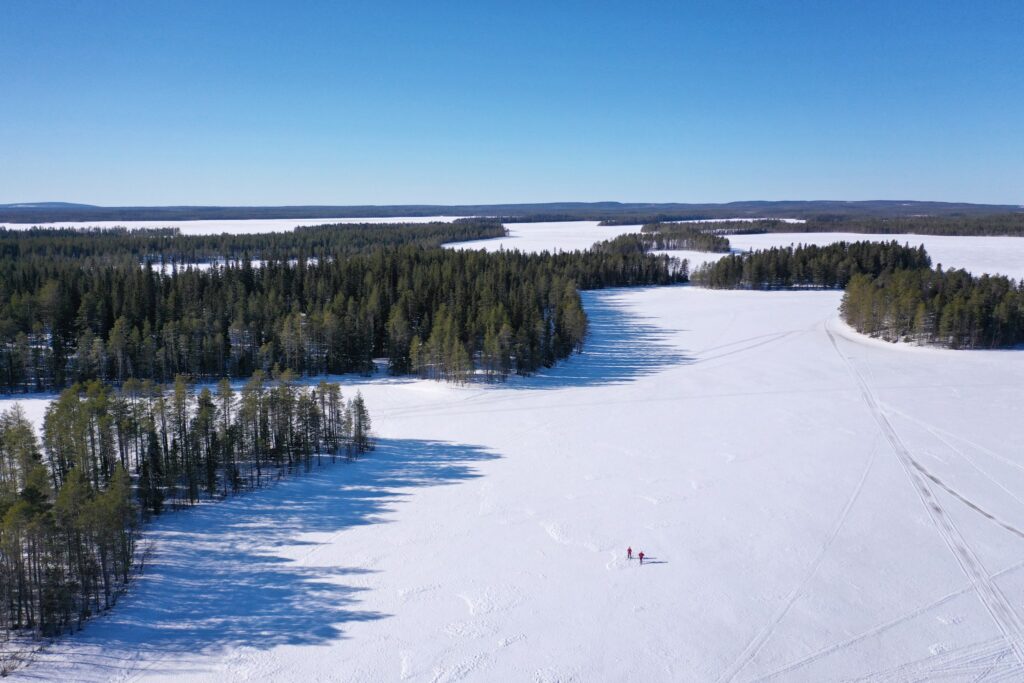 The arctic ceramic centre of Finland
Pentik is presumably the world's northernmost ceramics factory. It is also the largest employer in Posio. A cultural centre was established next to the factory, bringing lots of visitors to Posio. Story of Pentik starts from the 1970's when Anu Pentik, then a housewife, started started making ceramics in her basement in the 1970's. Now, almost 50 years later, Pentik is a very well-known brand in Finland. The company has 50 shops in Finland and is presentin 8 other countries.
Pentik has created a ceramics culture in Posio, which has also attracted ceramic artists other than Anu Pentik to the town. One such artists is Korean Miki Kim. She started her own ceramics studio in Posio in 2012. All of her products are inspired by Northern nature. Under Miki's guidance you can learn the craft yourself – you can book a ceramics class from her here.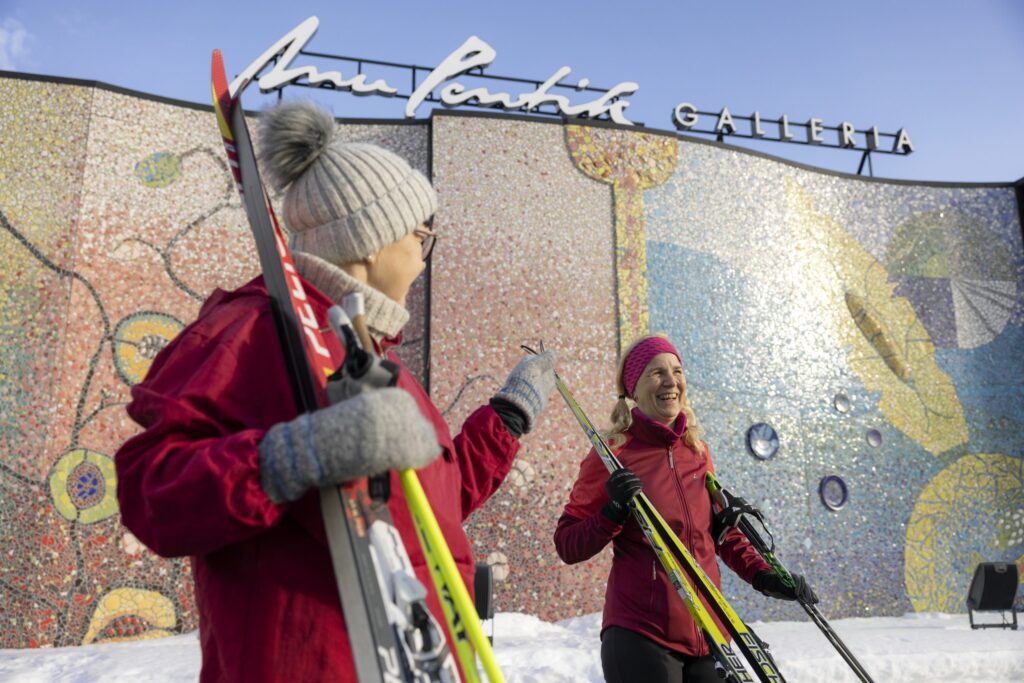 Book a vacation package or plan the trip yourself
Enjoy a week full of winter activities and beautiful pristine nature of Posio. At Naali Lodge « Take the time » will be key words for your stay! Here most of your activities are not punctuated by the clock. On the contrary your guide will adapt to the rhythm of the group, to each other's physical conditions but also to weather conditions. This way, you can spend a whole day skiing in the wilderness if everyone feels good, or shorten the hike and enjoy the sauna if the weather is less good or fatigue more present! Moreover, activities will be carried out exclusively in small group (maximum 8 people). Further information about this package and booking here.
If it's vacationing in a Finnish-style cottage that you prefer, Holiday Village Himmerki is the place for you. Their weekly winter program includes e.g. winter fishing with a local guide and guided hikes to Riisitunturi and Korouoma. Book this trip here. 
Or what about staying in Sami-style tiipii or in a traditional Finnish sauna cabing for a whole week and learning about reindeer? If you said yes, this reindeer farm offers you the perfect getaway. This place is home to the famous reindeer Ailo, which you get to meet on person on your holiday. More information and booking here.
Posio is a great destination to visit also in autumn or summertime. Why not book a flight directly to Kuusamo airport and rent a car to explore the area. Korouoma canyon's magnificent cliff clad in autumn colors are a sight to see, not to mention the feeling of pure air in your lungs. Best time to experience the autumn foliage or ruska as we say in Finnish, is in September. It's not possible to give an exact date to the peak of ruska, but one cay say, that it's somewhere from middle until the end of September. 
Autumn is indeed the one of the best times for huge variety of different outdoor activities. More information about all the activities Posio has to offer you can find here. 
In Posio, sweet dreams are guaranteed! One may choose from a wide range of accommodation including hotels, cottages and cottage villages. All locate in their own privacy by lakes and in forests or wooded areas. Special accommodation is also available if you wish to stay for example in a hut or farmyard. Please find more information here.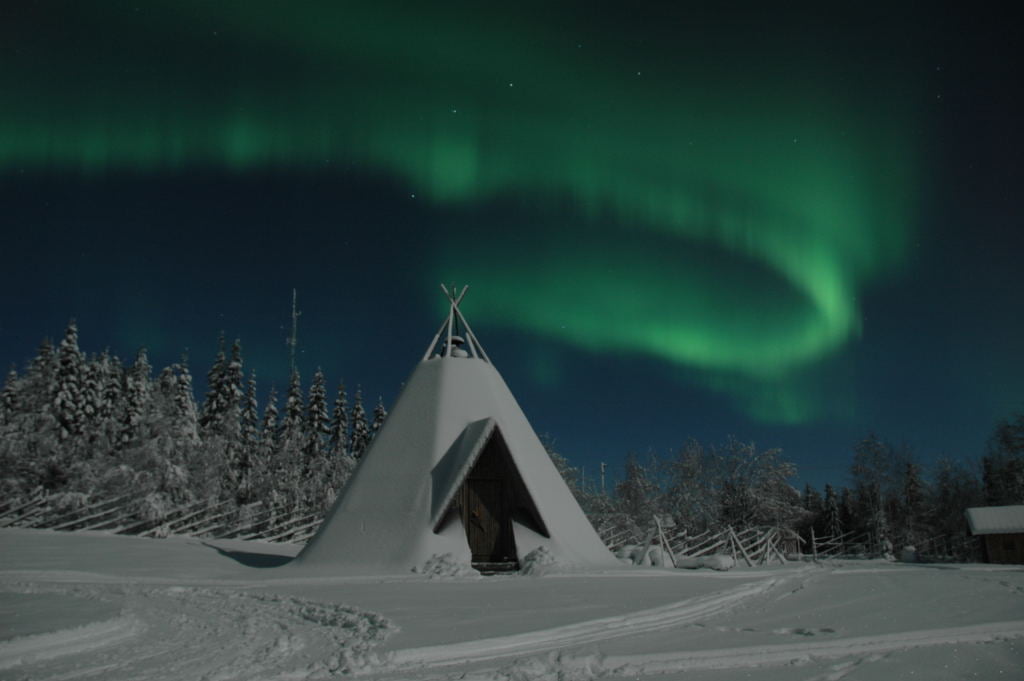 YOU ALSO MIGHT BE INTERESTED IN