The frozen waterfalls of Korouoma are the number one ice climbing destination in Finland.

Korouoma Canyon is an amazing ice climbing destination in southern Lapland. Ice climbing is a unique way to enjoy the beautiful nature and rugged landscapes of Korouoma. In the winter, the streams running down the western cliffs of the canyon turn into frozen waterfalls and remain frozen until early summer. These icefalls are unique in Finland and they are excellent for ice climbing.
Anybody can try ice climbing in Posio, Lapland. The professional guides at Bliss Adventure make sure that your ice climbing experience is safe, fun and unforgettable!
Ice climbing day in Korouoma
Try climbing the tallest ice falls in Finland safely with the professional guides at Bliss Adventure.
Duration: 8 hours
Note! Bring personal outdoor clothing and some snacks (for example chocolate, energy bars or nuts)
RESERVATIONS AT LEAST 48 HOURS IN ADVANCE.
298 €/PERSON
MIN 2 PERSONS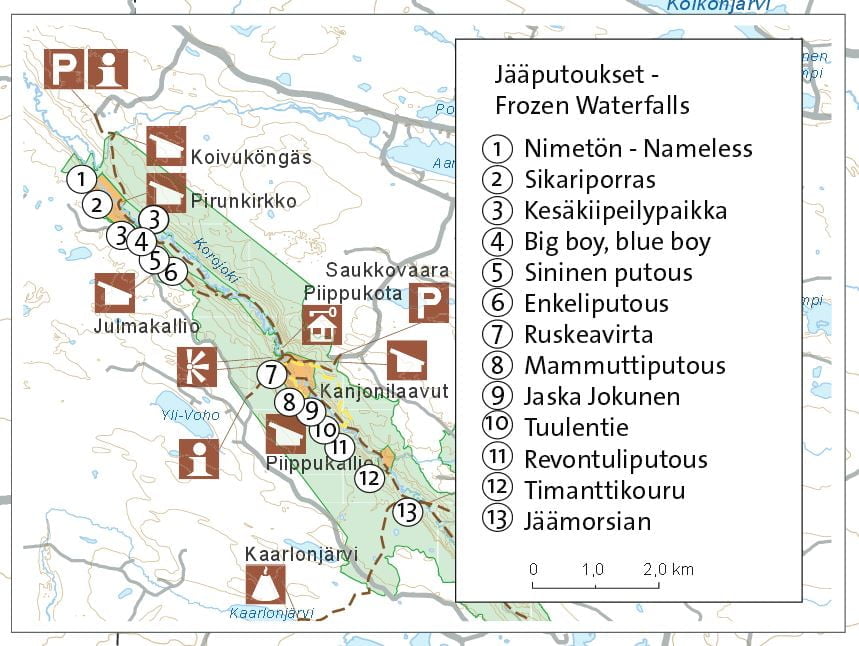 If you prefer to stay on the solid ground you can admire the ice falls along the Koronjää trail, which leads you past three of the biggest frozen waterfalls in Korouoma.
The Korouoma area in Posio is also excellent for snowshoe hiking and cross-country skiing. There are many lean-to shelters with campfire areas, and one open wilderness hut. Please note that cell phone reception is poor in some parts of the Korouoma Canyon.
You also might be interested in