The snowy winters of Posio provide amazing chances for snowshoeing and winter hiking.
Snowshoe walking is an excellent way to discover the different locations in Posio. Especially the marked day trails in Riisitunturi National Park and the Koro's Ice Trail 5 km in Korouoma canyon are ideal places to try this truly fun way to experience deep snow! Snowshoeing is a perfect activity for the whole family as anyone can do it – no previous experience required. With snowshoes anyone can walk in deep snow without straining themselves. Head for Riisitunturi in the evening, or perhaps you might want to stay over night in the hut on the top of the fell. You may even get to experience the bright Northern Lights – if you are lucky..
Opportunities for skiing in Posio are vast and versatile. There are altogether 70 kilometers of skiing tracks around the area which lead you all the way to special wilderness ski tracks and into the frost decorated Karitunturi and Riisitunturi fell regions.
Should you want to treat yourself with the local specialties on a wintry picnic you might want to try Aneen Loma sausage and other local products found in Posio S-Market Ahola and Kuusamo Prisma.
Sliding snowshoe trip in the National Park of Syöte
Sliding snowshoes or wilderness skis make wondering in the woods a lot of fun. Taigavire arranges guided tours with high quality equipment. During the trip you have a chance to ski peacefully across the forest and rolling hills.
Before the trip guides help you to use the wilderness skies sharing skiing techniques and provide safety related instructions. Along your guided trip you will understand the history of the area, nature, and services nowadays. The route follows the Posio side of the Syöte National Park area called Kouvo. Each trip is planned to be suitable for your group. Welcome to enjoy wintry nature and amazing sceneries.
Price: 45,00 €/ 3 h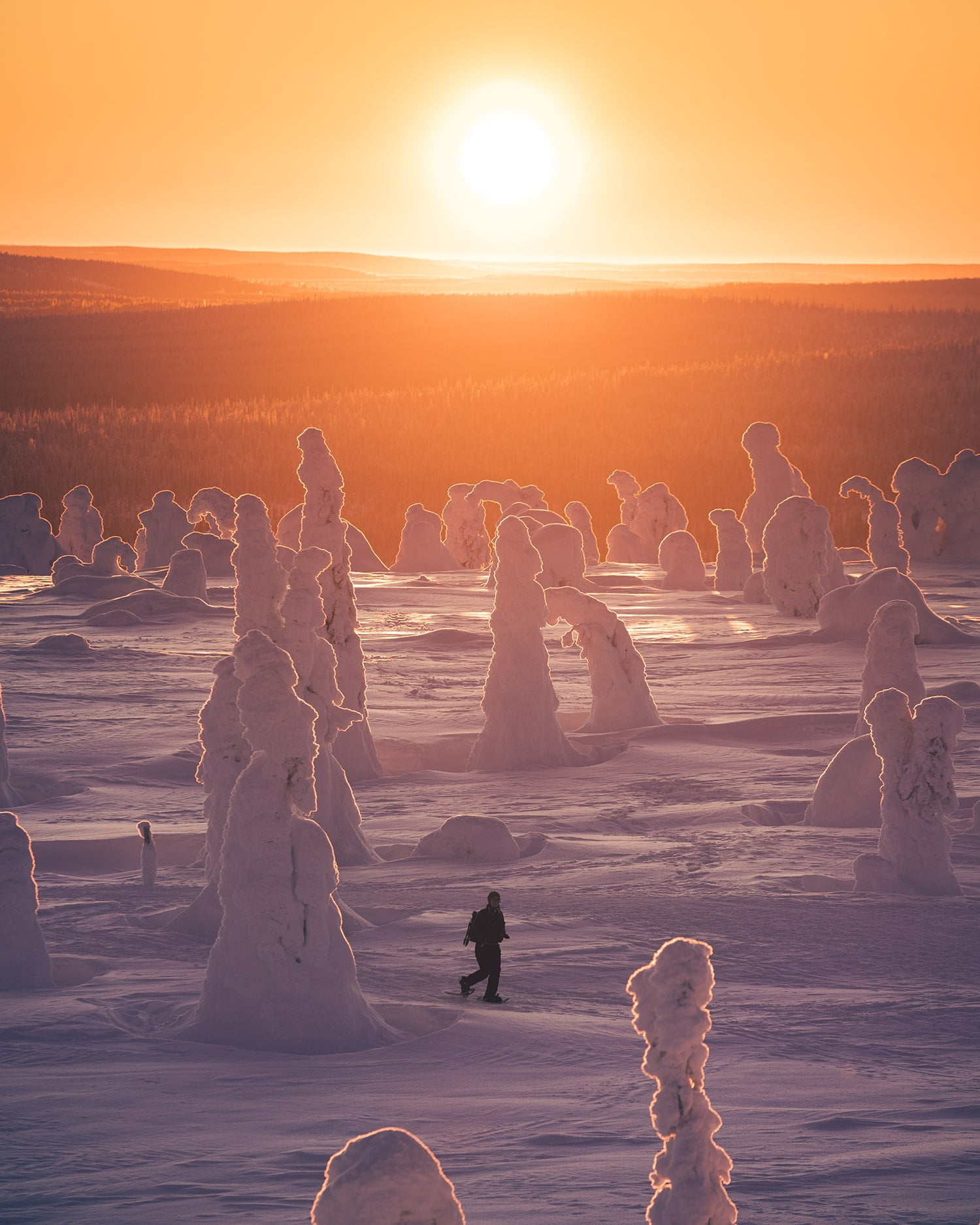 Additional information
Snowshoe rental
Ski rental
Ice fishing with locals
To get best out of your ice fishing experience we recommend you to take a guide along. Mr Oiva Soudunsaari Oiva tour and mr Timo Posio Posio Outdoors are professional fishermen who arrange trips on the frozen Posio lakes. Please take a closer look at the services on the company webpages.
Contact:
Oiva Soudunsaari:
+358 400 305 843
oiva.soudunsaari@hotmail.com
Timo Posio:
+358 50 5400906
timo@posioutdoors.fi
Sliding snowshoe rental
Jouni Vuollet, 20€/day. Please make a reservation at least one day in advance. Tel. +358 40 505 9068.
Posion erämökit. 35€/say + 20€/extra day. Rental gear address: Kattavaniementie 3. Please make a reservation in advance.  tel. +358 407321759.
You also might be interested in