If you want to experience the thrill of speed in the beautiful snowy landscapes of Posio then snowmobiling is for you! There are 200 kilometers of snowmobiling routes in the Posio area. From Posio you can snowmobile your way to Kuusamo, Ruka, Suomu, Ranua or Syöte, and continue even further, anywhere in Lapland!
Don't worry if you don't have your own snowmobile or experience in driving one, because in Posio you can rent a snowmobile or take part in a snowmobile safari! Trained professional guides make sure that you have the right equipment and that your snowmobile safari is safe, fun and unforgettable. You can also explore Posio independently by renting a snowmobile. Please note that it is strictly forbidden to drive snowmobiles outside the marked trails.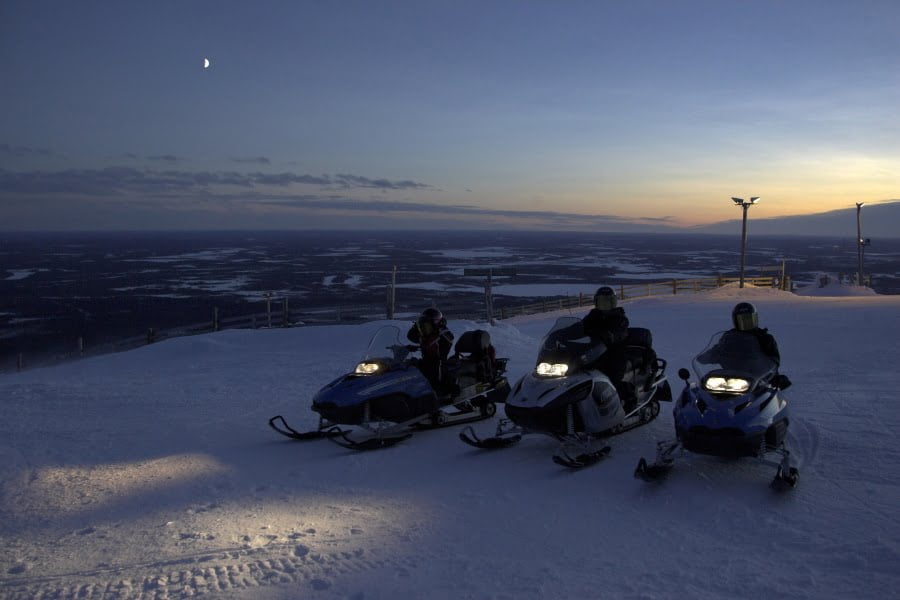 Maintenance info

The snowmobiling season 2021 is on. Please check the maintenance info below.
| DIRECTION | MAINTENANCE |
| --- | --- |
| Ruka-Kuusamo | OPEN |
| Syöte | - |
| Ranua | OPEN |
| Himmerki | OPEN |
| The tracks in the Posio center area | OPEN |
| Kemijärvi/Suomu | - |
Freeride permits

Posio yhteismetsä is selling permits for freeriding on two locations, Koro and Voho. The whole area covers nearly 25 000 hectares. There are 70 km of marked trails suitable for snowmobiling. In addition, you are allowed to ride outside the marked trails if no harm is caused for nature.
Freeride area coordinates are 66°14'00.0″N 27°28'00.0″E. A parking lot and the access point is in the beginnig of Palojoentie 
You can buy Freeride snowmobiling permissions at varuste.net for 30 €/day.
Additional information
Snowmobile rental
Snowmobile safaris
LYNX 440
Price 130 euroa/day (for guests staying over night)
Snowmobile rentals and scenic wilderness safaris
Contact:
Tel. +358 40 8433 425
info@stellapolaris.fi
Rent a snowmobile
Lynx Commander 600 E-tec snowmobile for rent.
Contact:
 +358 45 630 7970
140€ / 3H, 200€ / 6H, 240€ /DAY, 1100 €/WEEK
FROM 140 €
Multiservice Revonmäki
You also might be interested in