Most of the activities of the weekly program are offered every day. For more information about an exact program contact the service provider directly.
MONDAY
Snowshoeing adventure around Lake Livojärvi
Snowshoeing is a great way to experience Lapland's wintry wildernesses, enjoy the fresh and clean air and get some exercise. Join the snowshoeing adventure around the lake Livojärvi and Hirsniemi trekking areas.
The guide will provide you with history and information about the area.
During the adventure,a soup lunch is served by the open fire in the woods. Why don't you surprise your friend and yourself with this excellent day trip!
When: On Mondays at 11 am
Where: The starting point at Lake Livojärvi in the Taivalkoski truck stop, Taivalkoskentie 97959 Posio
Price: 2-5 person 90 €/person, 6-10 75 €/person, 11-14 70 €/person. Minimum invoice of 180 €. Tax included.
Participants: Minimum two persons, maximum 14 people
Suitable: Adults and over 14-years old
Difficulty level: Moderate
Duration: 3-4 hours
Contact: info@taigavire.fi, +358 40553 5469
read more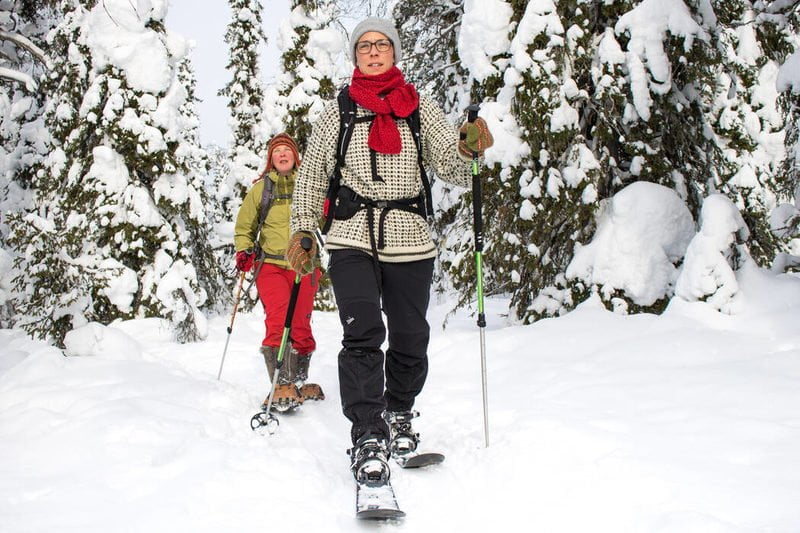 One hour on the runners – 10km husky safari
After getting acquainted with our dogs we'll make a ten-kilometer trip. Halfway we'll take a break, you can change drivers and take photos of you together with the huskies! After the trip hot drinks
and reindeer sandwiches will be served by an open fire in a Lappish teepee. But be aware by coming on this trip you will risk wanting more… one-hour trip with the huskies will not be enough. Duration 2 h.
Includes:
10 km husky safari
Snacks and hot drinks
Guided tour at huskies home and playing with the dogs
Instructions for driving and controlling team of dogs
Prices:
Adult: 130€, child: 80€, one sled: 190€.
read more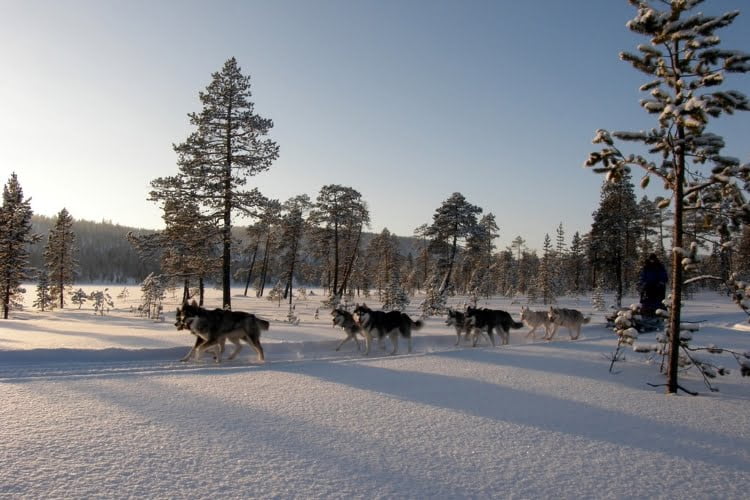 TUESDAY
Snowshoe trip or skiing in the woods
Rent a pair of snowshoes and head to amazing nature of Posio. Easy and convenient landscapes for a wintry hikes are found in Riisitunturi, Korouoma and Kirintövaara areas.
SNOWSHOE RENTAL
read more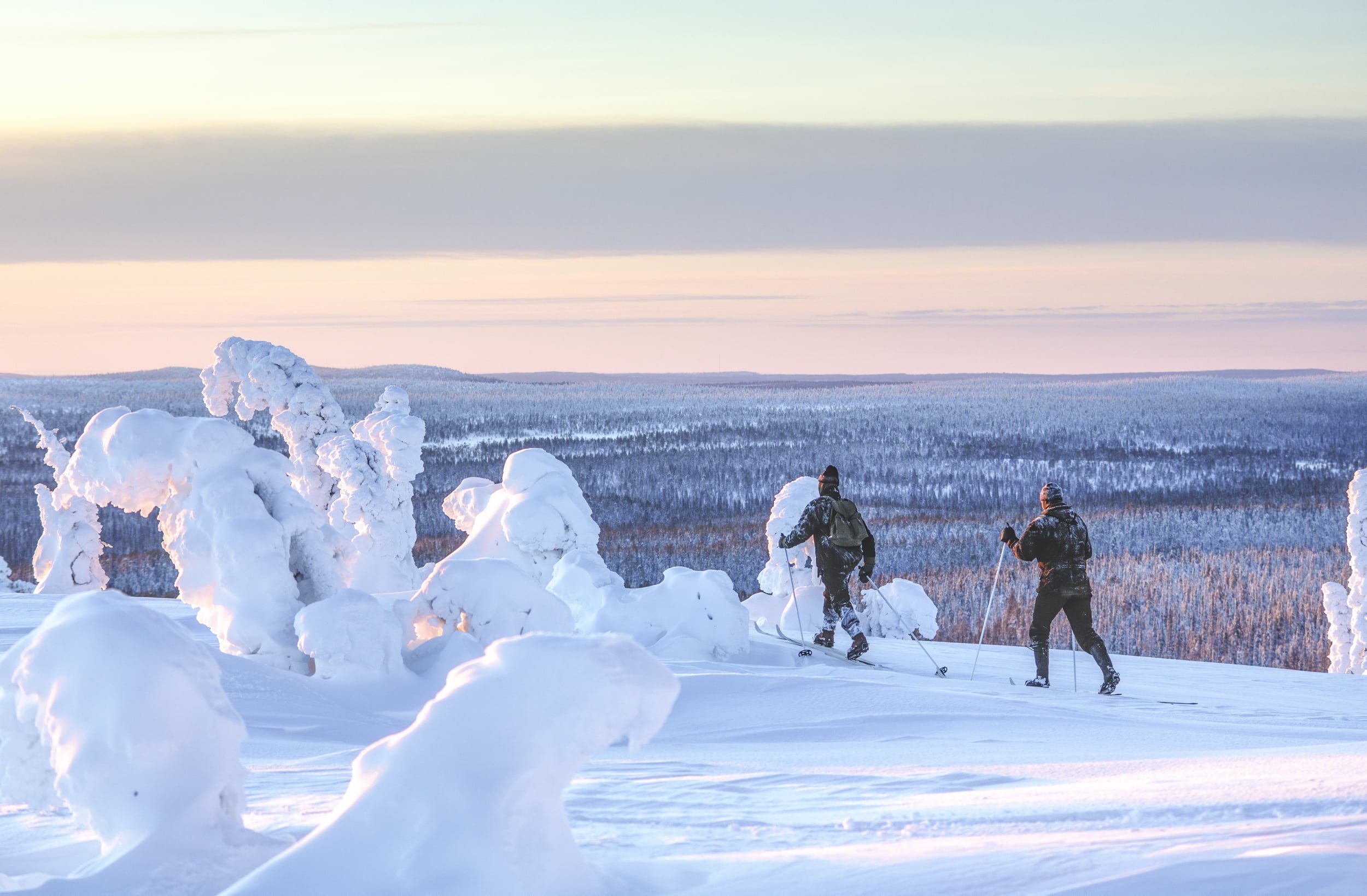 WEDNESDAY
Culture and Shopping
There are a large variety of local handmade handicrafts, souvenirs, interior products and gift articles for sale at Inga's Tupa. You can treat yourself and enjoy a cup of coffee with fresh homemade pastries in a cozy atmosphere.
Miki Studio is a small gallery and shop. Opening hours are from Wed-Fri 10-17 and Sat-Sun 10-16 in the heart of Posio, Suokatu 2.
culture attractions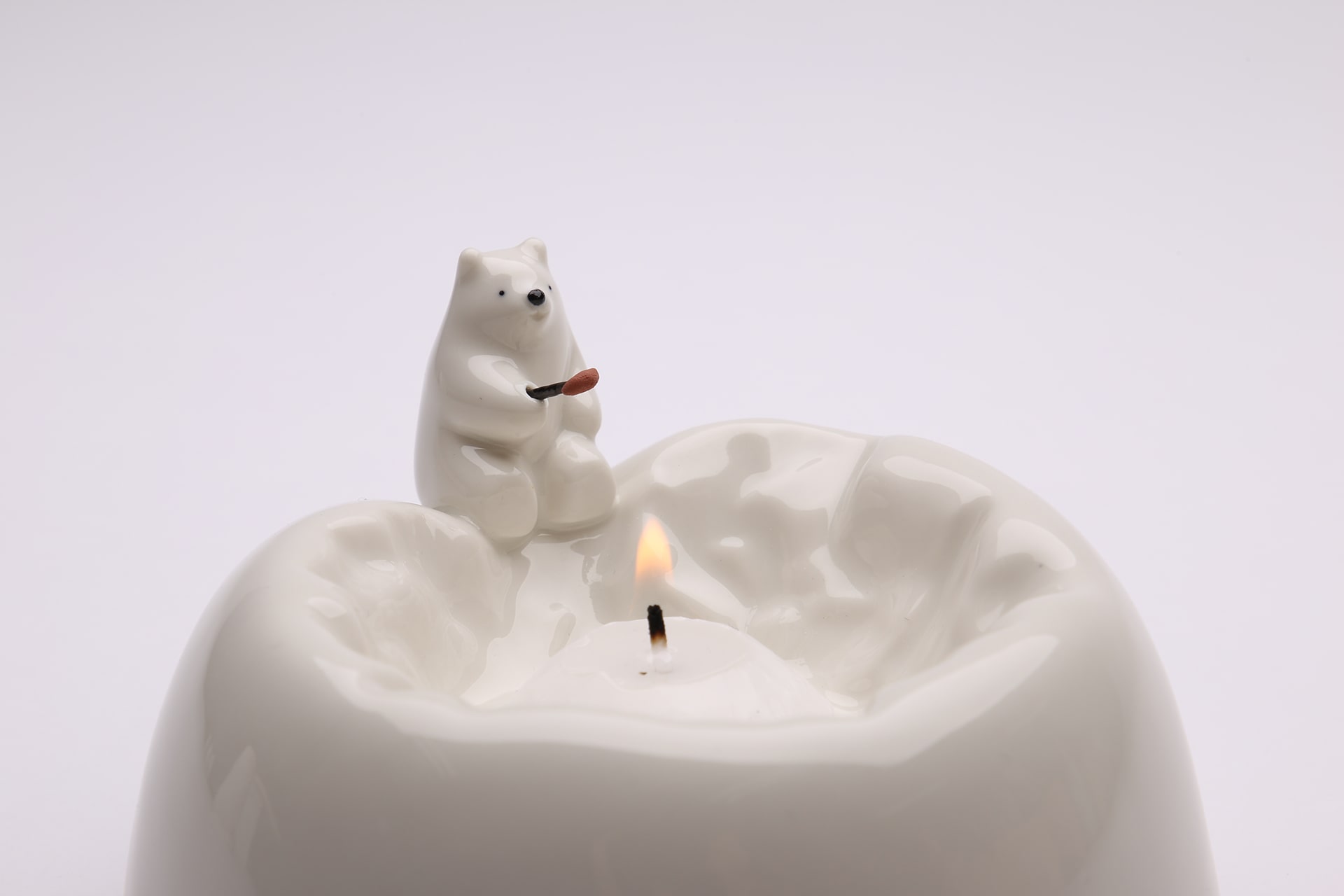 THURSDAY
A dog sledge ride in the National Park of Riisitunturi
How about a dog sledge ride in the Riisitunturi National Park. The snow-covered trees and amazing sceneries are breathtaking.
After a ride, you can enjoy a cup of coffee and a reindeer sandwich by open fire and memorize the memorable moments of dog sledge ride.
Duration:3,5 h
Price: 185 € adults 110 € child 240 € only 1/sledge
Group size: 2-16 persons
Language: Finnish/English
read more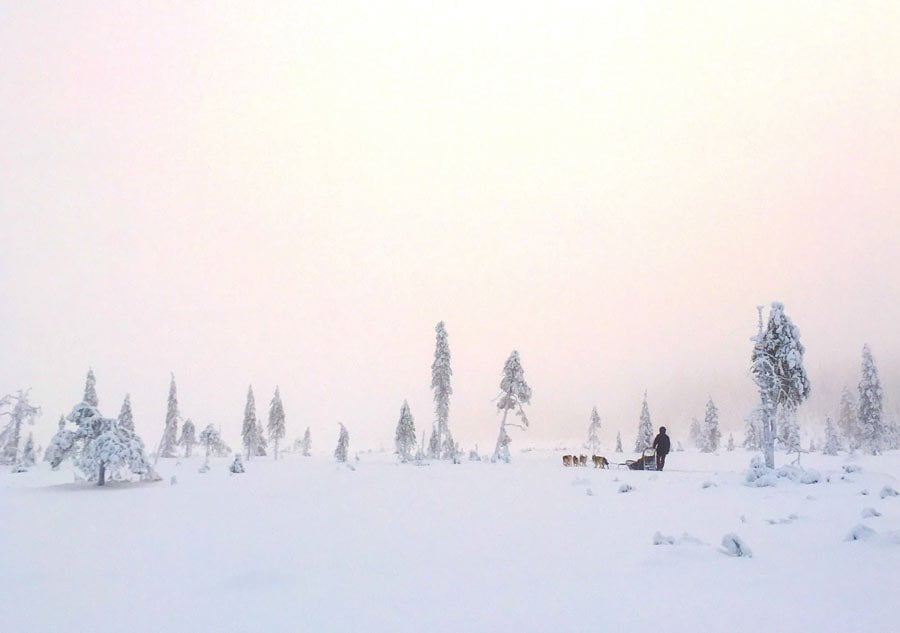 FRIDAY
Ice Climbing in Korouoma Canyon
Enjoy a day of ice-climbing at the highest frozen waterfalls in Finland! The course includes all the needed equipment and some hot beverages. Not recommended for children under 14 years old.
Ice Climbing Day in Korouoma
by Bliss Adventure
Duration: 8 hours
Price: 298 €/person (min 2 person)
Contact: +358 40 530 2206 or info@blissadventure.fi
NOTE! Bring your own personal outdoor clothing and some snacks (for example chocolate, energy bars or nuts).
Please make your reservation at least one day in advance.
read more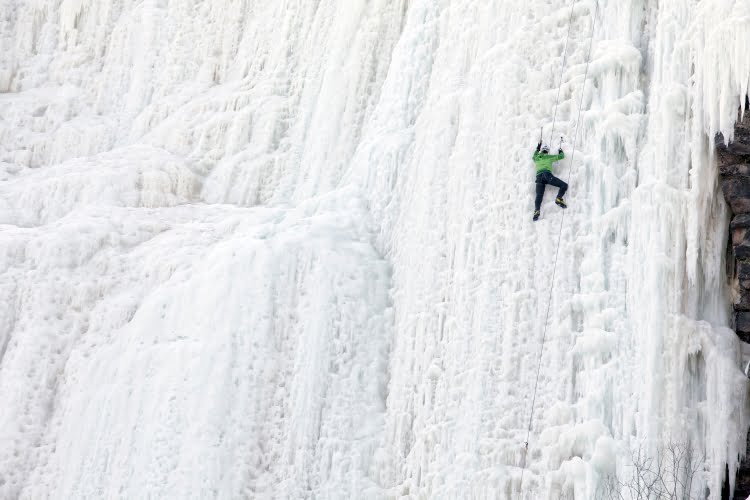 A vagabond in the wilderness- a dog sledge ride never forget
After getting a little acquainted with the soul life of huskies and how to control a dog sled, we head towards Riisitunturi National Park and its ancient forest and enjoy the silence. The paws of the dog's snarl in the frosty snow as the sledge rides in the wild. This is a vacation at its best!
About halfway through, we make a campfire and enjoy a tasty lunch and for dessert, of course, we drink coffee with bread cheese delicacies. Then we continue with full bellies towards new adventures.
Duration: 6 h
Price: 255 € adult 150 € child 315 € only 1/sledge
Group size:2-12 person
Language:Finnish/English
read more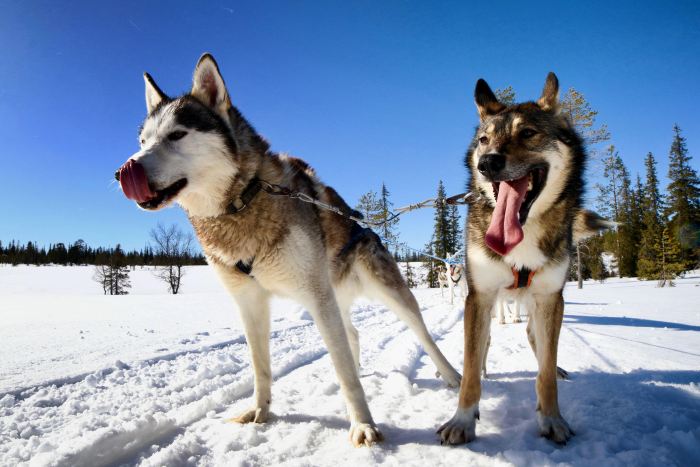 SATURDAY
Family trip in the winter wonderland- Huskies for the whole family
The child-loving huskies welcome even the smallest of the family with a happy bark. In addition to husky rides, we set aside plenty of time to pet and groom dogs.
This sledge ride can be done by even the smallest dog fans, and the toes stay warm under the blankets even in colder weather.
The route runs nice and smooth along the beautiful nature. After the trip, it's time to hug the dogs, get to know our big and hairy family in complete peace, and get familiarized with northern life style.
Our huskies are used to children and are eager to share affection with just about everyone. At the end of a trip we enjoy local pastry called kampanisu and a hot drink by the campfire in a cozy hut.
Duration:1,5 h
Price: 240 €/ family of  2 adults and all children additional fee of 95 € of each extra adult
Group size: 2-4 families
Language: Finnish/English
Read more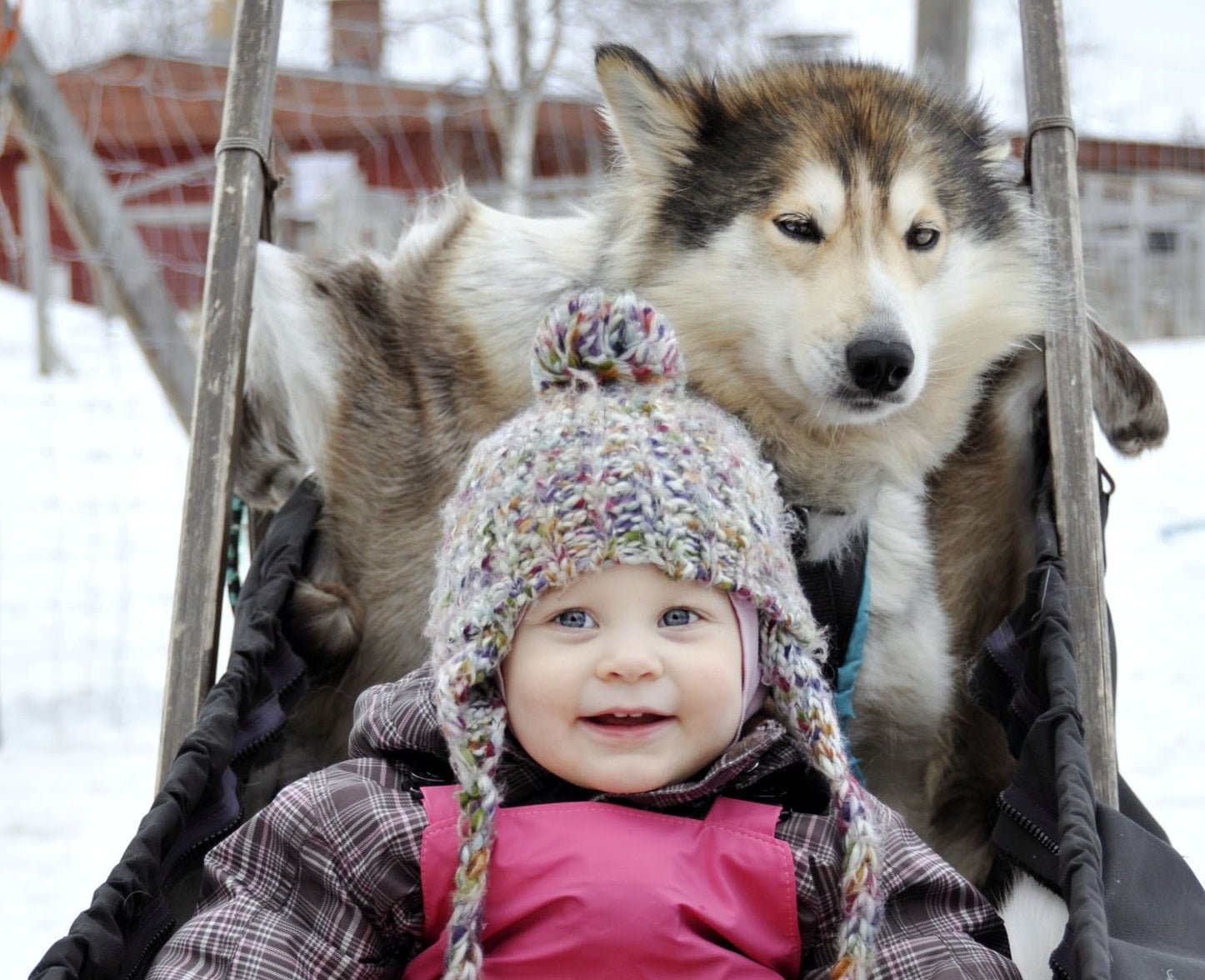 Sauna Evening
In the rush of modern life, the rarities are what we value the most – space, quiet and time. These treasures can be found in the Finnish sauna. In Posio, you can find over 2500 rental cottages with private saunas in almost all of them. You can also rent a sauna ship, where the bathing experience is combined with barbecue food and the beautiful lake sceneries of Posio.
Rent a Private Sauna
• White Deer's Kingdom
• Lapiosalmi Travel Center
• Hotel Kirikeskus
• Aneen Loma
Read more
SUNDAY
Downhill skiing in Kirintövaara
Kiri slopes are suitable for both beginners and experienced skiers.
There are three slopes in Kirintövaara, two of which are lit. The longest slope is 900 meters long with elevation of 110 meters. The profile of the slopes is suitable for children, but also pros can find challenges in the Kiri slopes. 
The Kiri slopes are open for the skiing season 2021 during weekends until the holiday season. During the peak season the Kiri slopes are open daily.
read more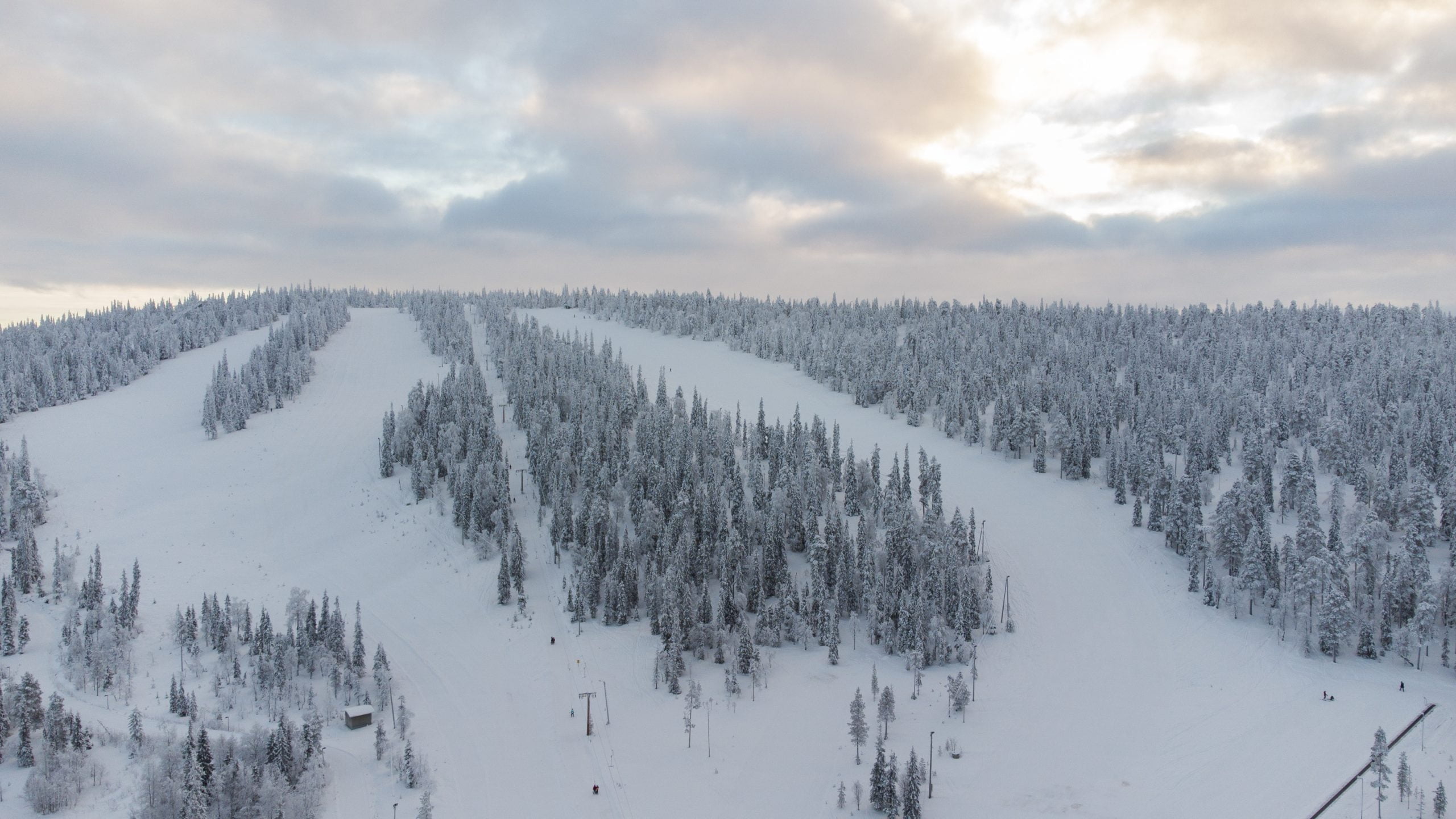 You also might be interested in